Welcome to the NEW Seductive Autosports!
We are currently only an enthusiast group catering to all GM's, but concentrating on the Pontiac Fiero. We do a lot of SCCA Solo II autocross racing as well as participate in local car shows. Here you will find a good resourse of information.
New! Honda Haters section
New! Photo Archive addition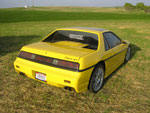 Be sure to check out all of the links to the left. We are constantly trying to get the most complete list of automotive and racing links available. If you have any questions, comments or suggestions, please email Fierojay and he will try answer as quickly as possible.
If you would like your car featured on our site, please email Fierojay a few photos along with a description of your car and modifications. We feature a lot of information on the Pontiac Fiero, but gladly welcome all GM submissions.